Dylan Spicer
Owner Head Coach
-Black Belt Brazilian Jiu Jitsu under Greg Nelson and Pedro Sauer
-Certified Combat Submission Wrestling Coach under Erik Paulson
-UFC Coach and Cornerman
-7-0 Professional MMA
Mr. Spicer Started training in 1999 after watching the first UFC events and began training a mix of Tae Kwon Do, wrestling, kickboxing and jiu jitsu at Progressive Martial Arts in Grand Forks, ND in 1999. In 2002 Dylan began making the drive to the Minnesota Martial Arts Academy in Brooklyn Center to train with legendary coach Greg Nelson and his team.
Moving to Minneapolis gave Dylan the opportunity to train under the direct tutelage of Greg Nelson and Sean Sherk on a daily basis which then led to many great travel and training experiences alongside many top level coaches and athletes. Mr. Spicer is also a Coach Level III in Sensei Erik Paulson's Combat Submission Wrestling which is a combination of Japanese Shooto, wrestling, and jiu-jitsu. Spicer was also a main training partner for UFC World Champion Sean Sherk and World Champion Nick "The Goat" Thompson as well other UFC fighters Paul Bradley, Jacob Volkmann, and Brock Larson. Coach Spicer has been cornering and helping fighters in the UFC since UFC 59.
As a competitor, Spicer has put his skills to the test on the mats, in the ring, and in the cage. He is a multiple time medalist and competitor in the Fargo Open, The Midwest Sub Hunt, NAGA, US Grappling Association, and Tournament of Pros. In the cage Mr. Spicer is undefeated with a record of 7 wins and no losses.
As a coach, Mr. Spicer and the other coaches at the ACA have developed the most successful MMA team in the state of North Dakota. They have brought local athletes from the ground up onto the local scene and then successfully competed against the best in the world at the highest levels of the sport of Mixed martial Arts
Cody Lincoln
Lead Coach MMA BJJ
-BJJ Black Belt
-All Army Combatives Tournament Runner Up 2010
-National Guard Combatives Tournament Champion 2011
-National Guard Combatives Tournament Champion 2012
-Professional MMA Fighter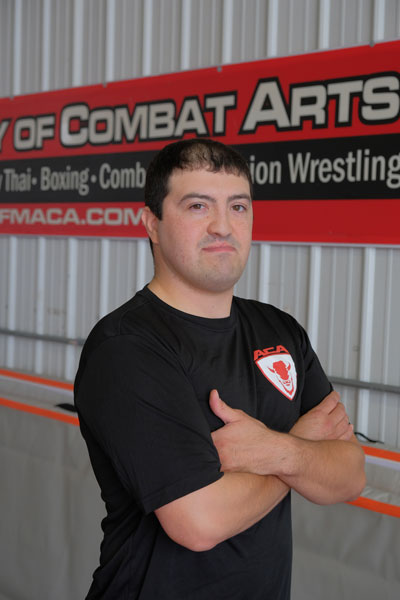 Joe Trottier
Lead Coach Boxing, Wrestling & Muay Thai
-NCAA Div1 Wrestling
-BJJ Blue Belt
-UFC Cornerman
Coming from a wrestling family, Coach Joe had his first competitive wrestling match at the age of 4. A multiple time state placewinner and member of the North Dakota National Team, Joe carried on his wrestling career at NDSU, where he was coached by Hall of Fame member Bucky Maughan. Joe's first foray into MMA was as a training partner to help a mutual friend get ready for an MMA fight. From there Joe was hooked and has since been sharing his great coaching style and positivity. With his famous "Joe-mittsu," and "Joe-jitsu," system, Coach Joe has a coaching style that can be adapted by all. Coach Joe is currently a certified coach under the Academy MN, USA Boxing, USA Wrestling, and the National High School Coaches Association. He is also CPR/First Aid/AED certified and certified in identifying concussions and concussion symptoms. Along with being an NCAA Division 1 wrestler, Coach Joe holds the rank of blue belt in Brazilian Jiu-Jitsu, as well as blue rank in Muay Thai. In addition to his Martial Arts experience, Coach Joe also earned a Bachelor's degree in
Psychology, with a minor in Health Education from North Dakota State University. Coach Joe is passionate about helping others achieve their goals in both martial arts and life. He has taught and coached housewives, fathers/sons, business owners, teachers, and many more. He is also the assistant wrestling coach at Davies High School in South Fargo. Coach Joe teaches CAP Muay Thai, Women's Only Kickboxing, and Pro MMA. Coach Joe is available for custom private lessons and also available world wide for seminars. Please email info@fmaca.com for more information and details.